The news for marijuana penny stocks can't get much better.
Over the last two weeks, national and state governments in North America have dealt a wave of final blows to marijuana prohibition, paving the way for full legalization – and tremendous profits.
On Oct. 31, Mexico's Supreme Court struck down the nation's marijuana prohibition law. Shortly afterwards, Mexico's incoming government announced plans to pursue full legalization.
Less than a week later, three American states took huge leaps toward full legalization during the midterm elections. Both Missouri and Utah voted to allow medical marijuana use, while Michigan voted for full recreational legalization.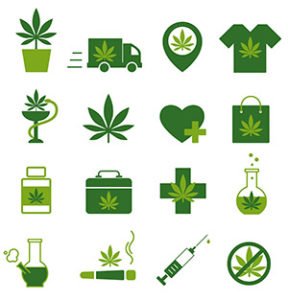 That's not even mentioning Canada's nationwide legalization on Oct. 17.
These developments are huge news, especially if you're interested in investing in marijuana penny stocks.
With a major catalyst like the legalization movement, pot penny stocks have the chance to skyrocket. But not every marijuana penny stock is worth owning.
Today, we're looking at five marijuana penny stocks that are on the verge of soaring as legalization sweeps across North America.
These companies are on the cutting edge of the marijuana industry and are developing innovative methods to generate profits – for both themselves and their shareholders.
In fact, the top marijuana penny stock on our list could deliver a return of over 300%…
Marijuana Penny Stock, No. 5: GreenGro Technologies Inc.
Traditionally, GreenGro Technologies Inc. (OTCMKTS: GRNH) develops cultivation systems for the marijuana farming sector.
However, last month GreenGro announced it will be moving directly into the production of CBD products.
LEGAL WAVE: Barriers to marijuana could be tumbling in Mexico and Thailand, but it's here in the U.S. where legalization could spark a "Green Rush" in certain stocks. Click here to learn about three of them…
CBD is a cannabis compound that offers the medical benefits of cannabis without making its users intoxicated.
Last year, sales in the CBD industry totaled $358 million. In five years, they're estimated to rise an astonishing 402% to $1.8 billion.
GreenGro intends to capitalize on the medical benefits of CBD by developing products that can be distributed to medical facilities and licensed retailers across the nation.
By investing in GreenGro, investors will be able to take advantage of the growing market for CBD-based products and cash in on GreenGro's inevitable expansion.
GreenGro currently trades for a bargain at $0.02.
However, our next marijuana penny stock is closing in on an even more lucrative area of the cannabis industry…
Read More at: MoneyMorning.com